Note: this article describes my personal experiences when planning and performing my talk at the Lesbians Who Tech Summit 2018 in San Francisco. In case you are interested in the talk transcription you may find it here.
We are almost at the end of March and only now I've managed to find some time to write about my experiences at LWT. This has been a very busy month for me as I'm practically on the road all the time, jumping from one conference to another.
I'm writing this on the plane getting back home after an amazing Women Techmakers IWD 18 Summit at Google Belo Horizonte, which deserves an entire article about it so I won't get into many details right now, but it is a kind of poetical ending to a cycle that had begun on the very same summit last year.
Back to LWT, I must say it was really life changing. I had set this goal of having my first English talk this year on my last year review, but I didn't expect it to happen so soon. Oh, well… kind of.
This is the story of how I managed to complete one of my goals for this year in record time!
The Idea
Everything started back in November 2017 when I got a ticket to Lesbians Who Tech London Summit. What I couldn't say back then is that I was invited into town (London) by Google (and later Facebook) because I had moved to the onsite interviewing stage.
For obvious reasons I didn't want my former employer to know my true intentions, but since that trip appeared out of nowhere and I didn't have an official "excuse" to do a "quick international trip", I started desperately looking for tech conferences that would make some sense to attend to.
Luckly for me, that was the same time of the year that LWT London was happening. It was one of those magical coincidences that only happens a few times in our lives. Since I was interviewing with Facebook and they were one of the sponsors, they got me a free ticket. Thank you FB ❤ (On a side note: the Facebook hiring process is awesome… I didn't get in, but it is still awesome!).
After two rounds of very tiresome interviews, Google on Thursday and Facebook on Friday, I got my prize: attending LWT. That weekend was magical. I've never been with so many queer women at the same place… and the best part of it: they all spoken the same language, they were tech ladies!
That empowering feeling took me over and I decided I needed more of it. I soon would discover the existence of LWT San Francisco and I needed to see it, somehow. Then Leanne Pittsford came on stage and told about her goals for the event and she mentioned she needed more transgender speakers.
"That's it!" I thought… I always wanted a speaking spot at an international conference, this would be my great chance to start. And what better audience? So, I reached out to her to figure out the details during the ending happy hour.
The most amazing thing about Leanne is that even though she is such a bigshot, I mean, CEO of a conference so big like LWT (5000 attendees in SF!), she is so accessible! She told me she would love to have me there, explained about the CFP and some details how they could help sponsoring the trip and everything was set.
As soon as I got home I started working on that CFP. In the end I've submitted two proposals which I though would fit the context of the event. One was about the Imposter Syndrome and the other was on the Women Who Go initiative.
It was about a month or so later that I got my acceptance letter. I was so excited!
Travel Arrangements
It was time to get ready for my trip, but then I had a bit of a drawback on my plans because I've discovered they (LWT) couldn't afford to sponsor the trip. They do have scholarships, but most of those are focused on students and I'm already a professional developer.
I needed the scholarship because even though I am a senior software engineer, I live in Brazil, which comes with two major penalties: first, my purchasing power really sucks (sorry for the language)… imagine your yearly earnings cut by 4, that's how I feel everytime I travel to the USA; and, second, I'm so far away from everything that the trip itself is so expensive!
I couldn't make my employer pay for that trip as they have some very strict rules for paying for conferences. Usually inside Brazil they support everything, especially if you have a speaking spot, but international trips have a different policy.
I was on my own… Or so I've thought.
The girls at LWT suggested me to do a crowdfunding campaign. My first thought was "Oh my god! Asking for money? No way I can do this!!!".
I was really embarrassed by that proposal. I've never done something like this before, I just didn't know how to handle it, so many emotions involved. Would it be fair to people? People would even care about it? I was dominated by a mixture of fear of failure and shame for asking.
Why was I worried about it? Maybe I didn't want to feel vulnerable… maybe I didn't want to feel rejected in case of failure… no matter the reason, I had to try! LWT was bigger than that. My goals were bigger than that.
After a huge amount of reasoning and internal debating I've finally pressed that button. The campaign was live!
Those were some pretty scary five seconds.
Once published I knew what I had to do, so I started sharing on every social network the campaign url. And forgot about it… for a few minutes at least. Then the first e-mail came, then other, and another one… I was getting support from so many people! I cried… I cried that time and I'm also almost crying right now remembering that feeling. You guys are so amazing, thank you very much! ❤
In a matter of hours (not even a day!), I got 100% of the funds I needed to cover the trip and so I closed the campaign. Getting that money though was another story. The Brazilian government is very good at making their citizens life hard. But I'll save this rant for another day.
As if it wasn't enough getting all those donations a dear friend of mine offered her house for me to stay in SF (Thank you Vanesa and Alan!!! ❤ ), which really helped keeping that trip under the budget as I highly underestimated the living costs in SF.
It was all set. Now I needed to work on my material. The talk chosen was the one on Imposter Syndrome (on a side note: I've used the wording "impostor" syndrome on my slides, but it seems to be that in the USA the most common writing of that word is "imposter".)
I wanted to give people practical advice on how to deal with the Imposter Syndrome as I'm not "cured", but I've managed to live with it and still accomplish great things even if my inner voice says I can't.
I've figured out that the best way to structure that talk would be a list of tips, which are summarized in this tweet: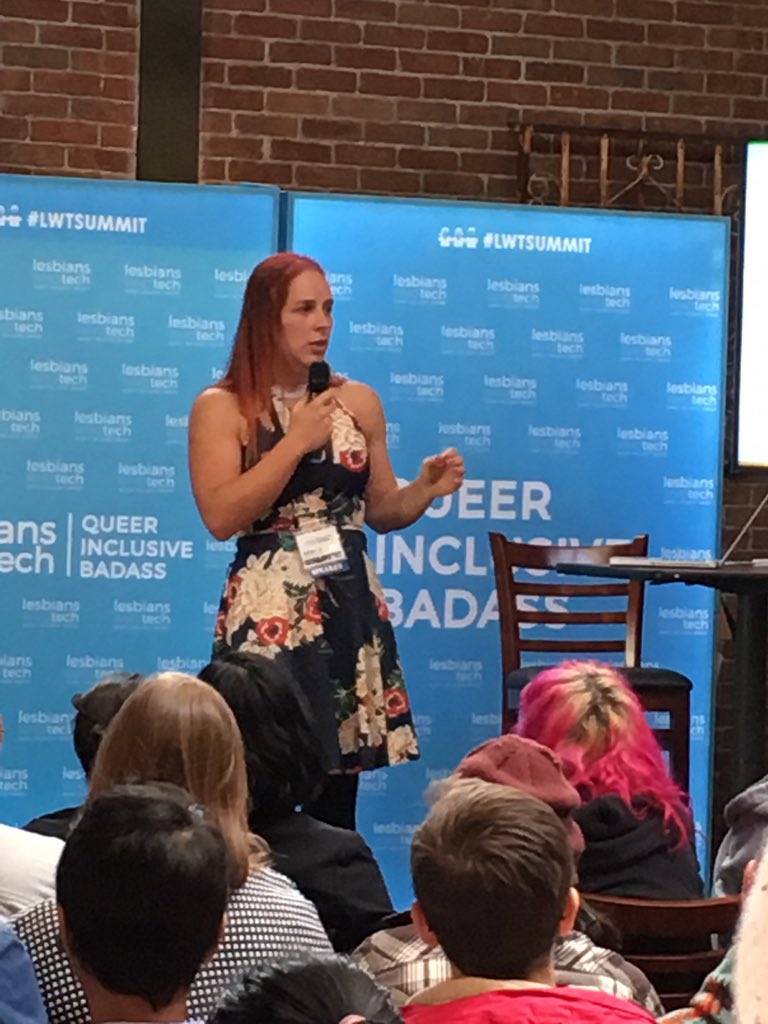 The Talk
Before getting into details of the talk, I must say that I was impressed by how many people showed up to see it. Even though it was a breakout session, the room was full. I've heard that some 40 to 50 people had to stay out of the room because they didn't have enough space. Thanks a lot for showing up!!!
Talking in San Francisco was an amazing experience. I mean, being on the spotlight at a conference as big as LWT (5k attendees) in the Silicon Valley, that was definitely one of the biggest moments in my career.
So many great women were speaking there as well, like Sheryl Sandberg, Megan Smith and Bozoma Saint John, for instance. I'm very honored to share the stage with all of them.
I was a bit nervous because that was my first talk in English and I usually like to do non-scripted talks. I mean, I usually have some bullet points I'd like to cover, but I don't memorize any particular phrase. I feel that makes the talk seems more organic and enjoyable by the audience.
The major drawback of this approach when talking in some tongue that is not your native one is the possibility of you lacking the vocabulary to "glue" the ideas together. To compensate for that limitation I've rehearsed a lot more than my usual talks in Portuguese.
In the end I think that the extra effort paid off, as I got mostly positive feedbacks about my performance.
Final Words
Lesbians Who Tech gave me a life changing opportunity. Speaking at an international conference was a long time goal that I've finally accomplished.
They 've provided me the perfect audience: a safe environment so I could try new things without worrying too much. I was insecure about my English skills, so having a proper supportive audience was the key to tackle that one limitation. Now it's time to risk with broader audiences… or maybe a technical subject?
Just like I said in my talk, you should always try to be on the uncomfortable side of things to keep on learning. With a bigger confidence in my English language skills now I'm ready for the next step, so you can expect that I'll be showing up a lot more at other conferences all around the world.
Finally, if you are curious, I didn't get an offer neither at Google or Facebook, but I'm a strong admirer of both companies since they were some of the few select companies that had invited me to apply after my transition. Kudos for them!
In regards to my current job situation. I'll make an announcement very soon about that. Stay tuned. :)