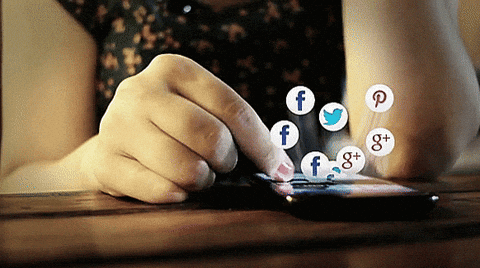 Most people today are connected in some way via social media. To be exact, 40% of the world's population is in possession of a social media account. As statistics reported by The Next Web show, in 2017 the total number of social media users surged past 3 billion people worldwide which is an extraordinary figure, considering that the global population currently stands at 7.6 billion.
Even though Facebook is in the lead with a staggering 2.2 billion monthly active users, alternative social media websites like Telegram, Ask.fm, Quora, and Kik are gaining significant traction and slowly narrowing the gap.
Showing no signs of slowing down, some social media applications have already announced their intention of migrating their platforms to blockchain. Initial coin offerings (ICOs) conducted by Telegram and Kik have successfully raised 1.7 billion and 100 million dollars respectively. Not small amounts by any means.
And if the latest rumors are to be believed, it's possible that we may see other social media platforms follow suit by planning their own ICO.
Why would these seemingly popular apps and websites decide to conduct an ICO, and what is there for them to gain by turning to blockchain?"
Social Media Benefits From Blockchain
Blockchain technology can prove to be a great benefit to social media platforms. Blockchain is naturally transparent, secure and anonymous which are absolute musts when users are expected to input sensitive personal data. Ensuring that this data is securely stored on a decentralized platform is particularly relevant in light of the recent Cambridge Analytica scandal. Rather than keeping data stored in one central location, it can be kept on a distributed immutable ledger. Other metrics could perhaps be put in place to give users more control over who they choose to share their data with.
In addition, adopting blockchain technology and tokenizing the platform can help to solve some of the major problems that have plagued social media platforms years. For starters, one of the problems with the Q&A social media sites like Quora, Ask.fm, and Reddit has been the lack of participating users, or "lurkers". These users visit the website, read answers, and leave without making a contribution. To solve this, tokens tracked on the blockchain may be used as a reward for participating and answering questions.
The benefits of a token rewards system goes even further. Tokens can be used to reward the most helpful answer or comment which might encourage users to participate and provide more value while cutting down on the number of poor quality, fake, trolling, and cyber-bullying answers and comments. Meaningful exchanges of information can add a level of maturity to the space that could attract new users with expert knowledge while still being faithful to the millennial user base that these platforms are already popular with.
So, why do I think more social media ICOs are on the way? Well, while there haven't been any official announcements yet, some quick internet snooping has uncovered some interesting facts.
A Blockchain Exodus
There has been evidence that one social media platform in particular, Ask.fm, may be in the initial stages of planning a blockchain related project. First is the appearance of this intriguing webpage, which seems to be a "coming soon" page. While it's not much to go on right now, it certainly seems like Ask.fm is working on something new. The "2.0" also suggests that this can be an upgrade of some sort.
The plot thickened when I visited the popular job board cryptojobslist.com. Here you can see 3 job openings for a "social Q&A network with more than 200 million registered users". Two of the three job openings are for blockchain developers. However, the third job op, which happens to be for a business development manager position states in the job description that the offices of this social network are located in Latvia and Ukraine. Coincidentally, a quick look at Ask.fm's about us page reveals that they are headquartered in Latvia with additional offices in Ukraine as well.
Perhaps the most convincing piece of evidence lies in a number of interesting domain names. Askfm.io, askfmico.com, icoaskfm.com, askfmcoin.com, askfmtoken.com, askfmtokens.com are all domains that were registered in the past month. A search on the who.is database revealed that two of these domains (askfmico.com and icoaskfm.com) are registered to Ask.fm Europe Limited.
The Future of Social Media
Going forward, this could prove to be a brilliant move for alternative social media sites. By performing an ICO, these platforms show that they are willing to embrace new technologies, maintaining their edge and staying ahead of the curve. This can go a long way to help smaller platforms compete with giants like Facebook and Instagram.
Successful execution could very well see other social media platforms becoming more accessible to a much wider audience. By encouraging more mature discussions, these companies put themselves in a position to effectively break down the communication barriers that exist between millennials and opinion leaders. In fact, it wouldn't be surprising if big name influencers, celebrities, and other experts jumped on board.
More importantly, with the Cambridge Analytica incident making data security and privacy a hot topic, we can probably expect to see more platforms considering moving over to blockchain.
All of this is still very much speculation at this stage. But one thing is for certain, should the Ask.fm ICO turn out to be true, they will be joining Telegram and Kik in what could be a new era of social media.