Here comes the end of another year. As the tradition goes, it is time to reflect on the year that has gone by and prepare for the year to come.
The year 2018 was a box full of surprises. Looking back today at how many things happened this year, it looks like I've lived 5 years in the time span of just one. No wonder I'm feeling so tired! 😅
Last year was already very impressive as you can see in my previous review and, to be honest, I didn't think that 2018 could be a better year… I was wrong, very wrong!
At the beginning of the year I had set some goals, New Year's resolutions you may say, that included stuff like giving a talk in English at an international conference, improving technically and creating a YouTube channel.
Those were supposed to help me push forward into the paths I've opened in 2017 and, while I did manage to accomplish a few of those things, it's the things that I didn't plan ahead that brought me the greatest sense of fulfillment.
Highlights of the Year
This year will be hard to choose the best moment, as many of the things that happened would easily fit the number 1 spot. I'd say that at least the top 3 are a tie.
Talking at a TEDx chapter: TEDx Niterói
A TED talk is the dream of some of the most seasoned speakers out there. It is something that has crossed my mind a few times over the years, but I didn't think I had a TED-level material to share, at least not at this point in my life.
But on a random day in December last year, everything changed. I was contacted by one the TEDx Niterói curators to invite me to share my history on the platform. I was overwhelmed.
The preparation was a lengthy process. First, you need to write the draft and submit it for review. Then at a later stage, you start doing videos and every iteration you get feedback from the curators to tune your material. On the previous day of the event, you do a final rehearsal to tune the last bits.
I'm not used to having such a rigorous process for building any of my talks, as I like to go more "freestyle". It was really hard for me to keep up with the required pace, which earned me the trophy of the "least curable speaker" at that edition, but in the end, I delivered the talk and everyone was happy with the result.
Nevertheless, I've learned a lot with the process and I'm already wondering if I'll ever have the chance to do it again. I promise I'll be more "curable" next time! 😉
2. My first keynote: Python Brazil 14
First, I need to say: I love the Python community! It's one of the most amazing, fun and inclusive communities out there. Every conference I go is a joy: I meet very interesting people, reconnect with friends and learn a lot of cool things. And, of course, I can't forget to mention the "pybar".
This year I've had the great honor of opening the biggest Python event in Brazil: Python Brasil 14. Not only it was my first keynote at an event of that importance, but it was also my biggest audience (about 700 people) and the one that I feel most connected to, so I really wanted to deliver the best talk of my life.
I decided to do a parallel of the Zen of Python with the real world, touching briefly some aspects of the current political scenario in Brazil and revisiting some concepts from my TED talk. I thought it was a bit risky but provocative in a good way.
Once the talk was finished I had such overwhelming support that was hard to leave the conference room with so many people coming to talk to me and asking for pictures… mission accomplished!
I'm still waiting for the video to be published, but the slides you can find here: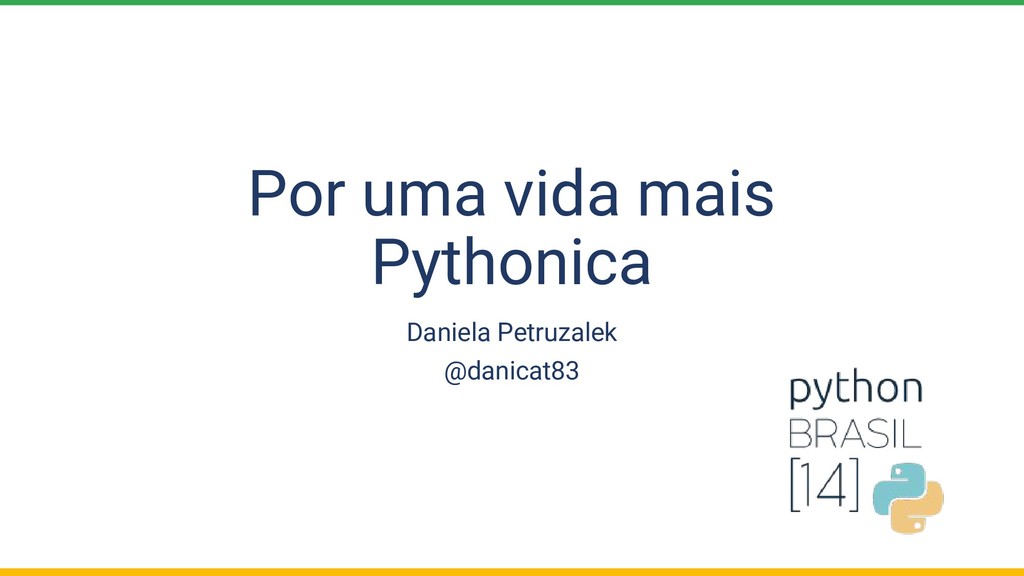 3. Being nominated a Google Developer Expert
I have been flirting with Google for a few years already. Last year I had one shot at the on-site interview at Google London, for a Developer Advocate role. I didn't pass the process and honestly, I felt a bit disappointed with the whole experience.
Nevertheless, that was just the beginning of my relationship with Google and after a few unofficial "expert" talks at some DevFests and Launchpads in Brazil, I was finally invited to be part of the GDE program as a Google Developer Expert in Google Cloud Platform.
Joining the program opened a lot of doors to me and the greatest perks were the opportunity to travel to San Francisco three times only this year, as I was invited to attend the Google Cloud Community Summit in March, Google Cloud Next in July and the GDE Summit in November.
Also, by being part of the program, somehow my rush into becoming a Googler has diminished a lot. I'm very comfortable with the relationship I have with them now and I believe that being outside Google at this moment in my life makes more sense, since I have a lot of ground to cover here, helping the community and focusing on other aspects of my career that I wouldn't be able to do otherwise.
4. My first talk in English: LWT San Francisco Summit
Speaking for an international audience was another dream come true this year, and one item of last year's resolution that I've accomplished. Since English is my second language and it's not used very often in my daily routine, speaking to an English-speaking audience was very challenging.
Especially the freestyle approach I like to use in my talks becomes impractical because I don't have the fluency to reorganize my thoughts in English as fast as I can do in Portuguese.
Nevertheless, I had a great experience. The room was full and a lot of people had to stay outside because it had reached capacity. The only thing I'm really sorry is that the talk wasn't recorded, because I am really proud of the result. People enjoyed my advice on dealing with Impostor Syndrome and in the end, they even stood up while clapping.
5. My first radio interview: Inflection Point
That one definitely deserves the trophy of the most unexpected achievement. At the beginning of the year, I've published an article entitle Gender Bias? A Transgender Perspective!, telling everyone a little about my unique perspectives on what it means to be a man or a woman in this world.
Little did I know that this article would have such huge repercussion, enough to grab the attention of Lauren Schiller from the Inflection Point radio show. I was invited to record an episode talking a bit about my life and my perspectives.
It was my first time giving an interview, first time on radio and first time at an American school. The recording took place on the week before Lesbians Who Tech so in the end that was the official dry run for my talk. A lot of first times back then!
Lauren was a great host and I really had fun recording. Maybe next year I'll have other opportunities for public appearances, who knows? I really enjoyed the experience and I'm looking forward to whatever comes in my way.
The full episode you can listen below:
Notable Mentions
This year had so many great achievements that's hard to put everything in a list, but I wouldn't forgive myself if I left behind moments like my talk at Gophercon UK and Gophercon Brazil.
The talk at Gophercon UK was my second in English, but honestly is not one I'm very proud of. I was severely jet-lagged and I feel that I underperformed. I did the same talk in Brazil one month later and then I delivered the talk I really wanted to do in the UK. I really hope that doesn't impair my next international speaking gigs. Lesson learned. I'll be better prepared next time.
Nevertheless, I'm very thankful to everyone at Gophercon UK.
New Year's Resolutions
It's time to set some objectives to pursue next year. I feel like pushing a little forward, not only careerwise but in my personal life as well. So these are the top five items I expect to be achieved by this time next year:
Be in top physical shape: 2018 was the year of focusing on my career, now I need to be able to take care of myself as a whole. I already have a plan, but I need to execute it. I'm tired of being overweight.
Move abroad: this has been my objective for the better part of the last couple of years and I'm really close to achieving it. Especially now that the political scene here in Brazil has taken a turn for the worse with the election of a far-right president for the next mandate, I feel that it's time to leave Brazil for good.
Speak (again) at a major international Go conference: I loved to speak at Gophercon UK and I would like to do it again. This time I want to make an appearance that I'm really proud.
Make a major contribution to open source: that was a miss from last year's list. To be honest, I've expended so much time this year interviewing that I didn't have the time to focus on side projects. I'm not expecting to do interviews for the next year so this time I'll focus that energy on the community.
Visit Asia (bonus points if it is Japan): I got really close to visiting China in 2018, but in the end, I couldn't because of my work. Next year I want to make that dream come true. That would be a very distant dream a few years ago, but now I feel that everything is possible.
Final words
What an amazing year! So many achievements unlocked! 🏆
So many unimaginable things happened and I fell this is just the beginning. That may sound cliché, but it seems that life really starts after 30… oh, well… 35 in my case.
I'm very thankful for everyone that tagged along with me on this journey and I wish you all the best of success and the fulfillment of all your dreams. I know life is very harsh most of the time, but I do believe that with the right combination of effort and attitude everything is possible.
With that mindset, I've managed to accomplish great things. It was not easy, but it is perfectly doable… and it totally worths it!
What about you… how was your year? What plans you have for the next? Feel free to comment below.