I started data36.com 18 months ago. It's a tech blog where I write entry level data science and analytics articles and tutorials for beginners. In February 2018 I reached a long-awaited milestone: 20,000 monthly visitors.
When I started my blog, I decided to be fully transparent with everything about it. This blog post is one of my first steps towards that. I'll share every detail that I find interesting:
how did I get my first 100 and then my first 1,000 readers?
how much time does blogging take daily?
what's my content and marketing strategy?
how did I do it on top of my full-time job?
how did I overcome the fact that I'm not a native English speaker?
how much money have I spent on the blog so far?
how much money have I earned with the blog so far?
Disclaimer:
I know, a tech blog with 20,000 readers a month is not extraordinary. But that's the point of this article: this is not an extraordinary story. This is something that everyone could do. Nonetheless, I see that many talented people are struggling with the first stages of building their own blog (and their own business), mainly because they don't believe in themselves. They don't believe that somebody would ever be interested in reading their valuable thoughts. And they doubt that they will ever reach the 1000-reader-per-month milestone. And I can relate to them. Getting from 0 to 1,000 visitors is significantly harder than getting from 1,000 to 5,000, from 5,000 to 10,000, or from 10,000 to 20,000.
I wrote this article to motivate people who are somewhere between 0 and 1,000 visitors. Hopefully, this article will show them that it's fairly easy to overcome the initial (mostly self-doubt) issues.
Starting off
Setting up a blog is very simple.
You choose a brand name, buy the website domain, rent a server, set up Wordpress, choose a template, done. Well, okay, if you want to have your own very unique and sophisticated web design, you can spend a few more days or weeks with the process. (I don't suggest it though.) But if you just want to start writing, you can get a blog set up literally in an hour. Later, at the end of this article, I'll share the exact tools and services I use (with all the costs) but for now let's just say — the technical part is not the main challenge.
The main challenge is the writing itself.
The first article
Question #1: what should your main topic be? For me, it was easy: I love data science and analytics. That's my job, that is what I've been doing every day for more than 6 years now. It was kinda self-evident that I'd write about that.
Okay, data is the main topic. But it is still very broad. So here comes question #2: what should I write about exactly? One thing that helped me to answer this question was that I knew what I have enjoyed the most during my data science career. (Well, besides practicing data science.) It was explaining the basics to my non-data-oriented colleagues and to interns and juniors. So I narrowed down my topic to beginner and entry level data science and analytics tutorials.
Question #3: What should my first article be about? After the first two conceptual questions, this is a very actionable one. Maybe that's why it's the most difficult to answer. When I started data36.com, I had a hard time answering it, too. Looking back, I'd say to myself: "Man, just start to write about whatever you want. Provide as much value as you can. And if your stuff is good that's good, if it's bad, nobody will read it anyway." After a few months of thinking, that's what happened anyway — I started to write about various topics that I found interesting. Later on, as I got more feedback from my readers, I was able to make much more educated decisions about what's interesting to my target audience and what's not. I'll get back to that. But first…
How did I get my first 100 readers?
I think the most important thing if you want to blog is that you actually have to love blogging. If you don't, you will stop before you get momentum. Back in 2016, I decided to write one article per week. And I kept at it for almost a year. (Recently I cut back to one really good article every second week.) Consistency is key if you want readers on your blog.
I would have not been able to write an article a week if I did not love to blog. You know, I'm drafting this very article at 10pm on a Friday night. Most people are having their first drink before the party, or watching TV, or just cooling down for the weekend. And I'm "working." Or am I? Even if blogging is considered "work," I feel like it's more like a hobby. And I think that's a key factor for me in being able to keep doing it.
I'll answer the question, too. How did I get my first 100 readers? I wrote my first 5–10 articles for an average audience of 10 people per week (according to Google Analytics). But this was intended. I didn't want to bring too many people to my blog until I had at least a few good articles that they could engage with. I have to tell you, this was a really painful period. Writing articles for 2 months with almost zero feedback is not easy.
Once I had my first 10 articles, though, I came up with the worst (and most common) marketing idea: I started to post my articles into relevant Facebook groups. Sure, I got banned from a few of these groups and from the rest I brought only a few (~100–200) views. But hey, at least I got 100 pairs of eyes on my content who could give me feedback. And that was all I needed at that time.
How did I get my first 1000 readers?
For one of my articles I got a comment in a Facebook Group. Something like:
"Nice article! Thank you! I shared it on Hacker News, too."
Thanks, dude. But what the heck is Hacker News? I learned: it's a content sharing site with a lot of visitors. If you get upvoted (chances: 0.001%) you will get a lot of traction — if not, you won't get any (chances: 99.999%).
Anyway, from that point on, I started to post my articles to Facebook groups and to Hacker News. This became a routine for me. I wrote an article, then spent about 2–3 hours sharing it on different forums. (By the way, I learned from other commenters about three more cool content sharing sites: GrowthHackers, Reddit and Datatau.)
You know, I got no more than 40–50 visits per day on Data36. But I didn't care about the low numbers — and this was a key component of my mindset. When I wrote a new article, I always made myself believe that this would be my big breakthrough. I didn't let myself write mediocre stuff and I never published anything until I felt it was the best I could publish. And even if I knew that my new articles were read by only a few people, I wrote them like they were read by tens of thousands.
And one day the miracle just happened!
One of my articles got upvoted on HackerNews. Just try to imagine how excited I was when after 3 months of blogging I saw this in Google Analytics:
It was crazy! For a few days. Just so you know: these things come fast and they go fast.
But I think this was the point when I knew that I can't stop here!
After the first 1000 readers…
This spike brought me a total of ~8000 new visitors to Data36. But the long term success of a blog does not depend on the number of new visitors but the number of engaged visitors. I started a Newsletter list (without a "lead magnet," so I only had subscribers who joined because of the initial quality of my articles and not for a one-time PDF e-book download) and I sent my new articles to these people week by week. I asked for feedback. I learned and I optimized. Finally, I got a small but great core audience whose needs I could learn and meet.
In the meantime, I wrote new articles week by week and I kept sharing my content on the above-mentioned forums, too. After my first spike in November, I got a second one (from a Reddit share) and a third one (when O'Reilly Media put my article in their Newsletter) and I felt that I was on the right track.
Things got faster and faster; readers started to share my content on social media, I got linked from different websites, and in March 2017 even O'Reilly Media reached out to me to say they wanted to cooperate with me. (That was a bucket list thing for me, since I'm a really big fan of O'Reilly Media's books.)
I also realized that those occasional spikes are not sustainable over the long term and started to focus on finding new marketing channels. I got more and more conscious about SEO and keyword research (which, by the way, improved the quality of my content, too). I started guest blogging on sites like Hacker Noon, Crazy Egg, Optimizely, etc. I not only got many readers on their site and some referral traffic, but also high quality backlinks to grow my longterm domain authority. I set up my social media accounts, too. Then I slowly stopped posting to Facebook Groups, Hacker News and Reddit.
So this where I am after 18 months:
Newsletter list: 2,400+ subscribers
Twitter: 1,160+ followers
Facebook: 660+ followers
Medium Followers: 2,800+ followers
Youtube: 320+ subscribers
Visitors on the blog: 20,000+ / month
SEO traffic on the blog: 13,000+ / month
How did I do this on top of my job?
Up until last September I worked full time as a data analyst for a Swedish startup. So it's a very relevant question: how did I write an article a week on top of my full-time job? It wasn't as hard as you'd think. Writing a ~2000-word article (which is the average length of my articles) takes 6–8 hours for me, so this whole blogging thing is doable as a nice side/weekend project. Given that I also have social life, family and hobbies, sometimes finding 6–8 hours a week wasn't simple — but when necessary, I wrote my articles during lunch time or took a few hours after midnight before I went to bed. The point is: Writing one great article a week is totally doable on top of a full-time job.
Regardless, last September I decided to quit my job, because I wanted to focus full-time on Data36. Nowadays, I spend most of my time (besides writing new articles) creating online courses and providing entry level SQL and Python workshops for European tech/startup/digital marketing companies.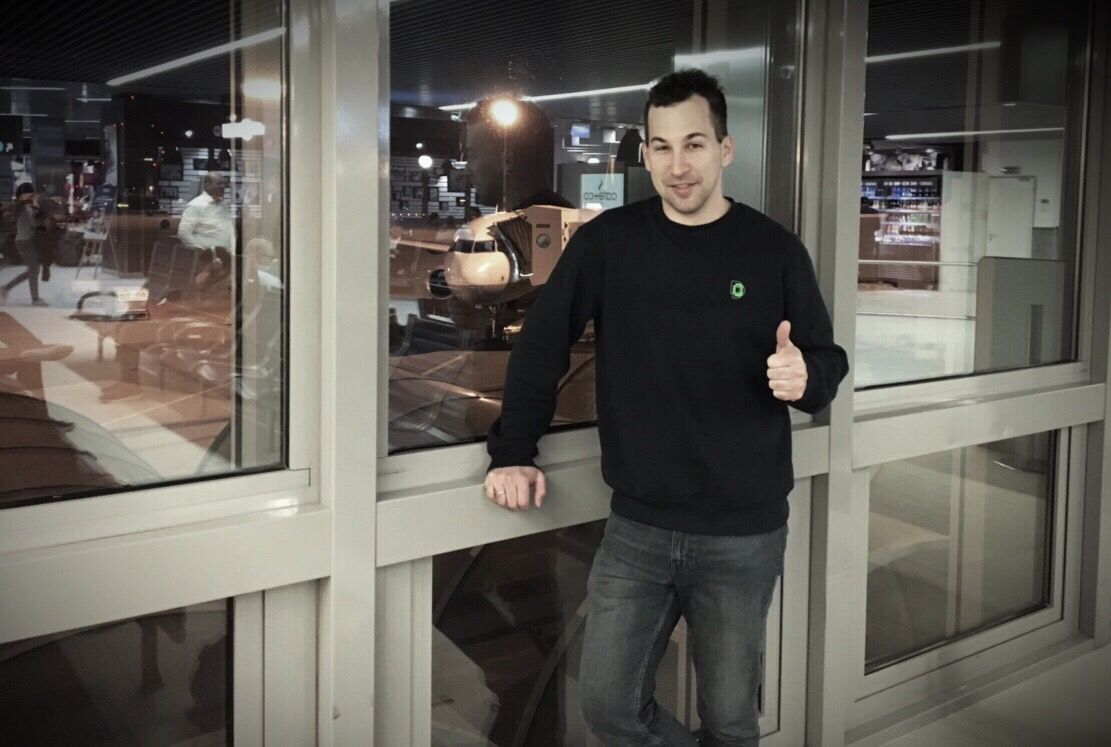 How did I overcome the fact that I'm not a native English speaker?
When I started Data36 I wasn't the best English speaker. Luckily, my wife speaks better English than I do, so in the first year she reviewed my articles and took out all the big grammar mistakes. (Thanks, Hon! ;-))
But this doesn't change the fact that neither of us is a native English speaker and I bet that readers in the US or in the UK could tell this really easily. But I didn't care too much. My strategy was: create such good content with so much value in it that it makes up for the less than 100% perfect English grammar and style. I also think that in the last 18 months — just by writing Data36 — my English has improved a lot.
And now that I've overcome this language issue and I'm getting some income from my blog, I can afford to work with professional proofreaders, too. (Hello Griff, hello Eric! :-))
My toolset and my expenses
As I promised, here I list all the online tools that I'm using on my blog.
Website:
Marketing:
Social Channels: Youtube, Instagram, Facebook, Twitter — Free
E-mail marketing: Mailchimp — $36 / month (currently)
Online course platform:
I mentioned that I'm running online courses, too. (More about that in another article.) I spent quite a few weeks doing research to find the best possible platform. After considering every aspect, I went with Teachable. And I haven't regretted it at all. They provide really good value for the money: their platform is awesome and easy to use, they provide great support and they take care of invoicing and payment processes, too. (As a starting entrepreneur, I didn't want to spend too much time on administration, so this latter one was very important for me.) So if you consider running an online course I most definitely recommend Teachable. (They have a special offer until 29 August: one free month of their PRO Plan with the links above).
Note: The links above are affiliate links. If you don't want to use my links, simply go to teachable.com!
Other expenses:
In total: ~$220/month
My income
~$100 / month — DigitalOcean affiliate (in coupon form)
~$700 / month — online courses (after taxes)
~$100 / month — other smaller income streams together (after taxes)
In total: ~$900/month
The future
As you can see, I don't make tons of money with my blog yet, but it's already a nice side income next to my main income (which is the live SQL and Python workshops). In the future, I would like to focus even more on developing online courses. Actually, in the last six months I've been working pretty hard on a 6-week data science challenge video course that I will release in a few days. In my next article, I will let you know how it went and I'll write more about online courses in general.
Conclusion
So to summarize my article, here are the five top takeaways from me if you want to start a blog and get 10,000 visitors per month:
Start small, but be consistent. Don't worry if you don't have too many readers in the first few months.
Focus on providing massive value with every article of yours.
Be strategic with your marketing and communicate your stuff on multiple channels.
Try to get as much feedback from your audience as you can.
Do what you love to do. Write about what you love to write about.
I hope you found this useful. I will write a few more articles on this topic in the future. If you don't want to miss them, follow me on Medium, Twitter or/and on Linkedin.
Enjoyed the article? Please just let me know by clicking the 👏 below. It also helps other people see the story!
Check out my new article:
Cheers,
Tomi Mester