How I've learned to live with — even love — a flawed machine
I previously owned a 2015 13" MacBook Pro, but purchased a 15" Macbook Pro TouchBar in Nov. 2016. I posted an initial review after one week.
The results after one year? It's been a mixed bag, but here's the tl;dr:
There are keyboard and reliability issues, but all considered I prefer it over the 2015.
The Good
Superb screen — For me, this is the most compelling reason to choose a Mac. I hear Apple has a patent on their screen glare reduction approach, and it shows. Every other laptop I've seen is hard to use in bright lighting because it's like a black mirror — this issue is even worse on touchscreen machines.
On the new MBP, reflections are muted. Plus, the new MacBook screen is notably brighter — enough so that I can work sitting in the sun and easily read it. I love working outdoors with a hat on to keep the sun out of my eyes, so that's a huge win. The result: I enjoy using the new MacBook Pro in my hammock. 🌴
USB-C — Being able to plug any peripheral in from either side is wonderful. No more awkward cable routing. And cords are effectively a foot longer when you know you can plug in on the near side. I dock my machine with two cables. I use a Monoprice USB-C dongle to connect Gigabit Ethernet, power, and three different USB peripherals. I use a second USB-C to Displayport cable to run a Dell 27" 4K Monitor at 60hz. Yes, I prefer running a single monitor.
Side note, ❤️ this monitor: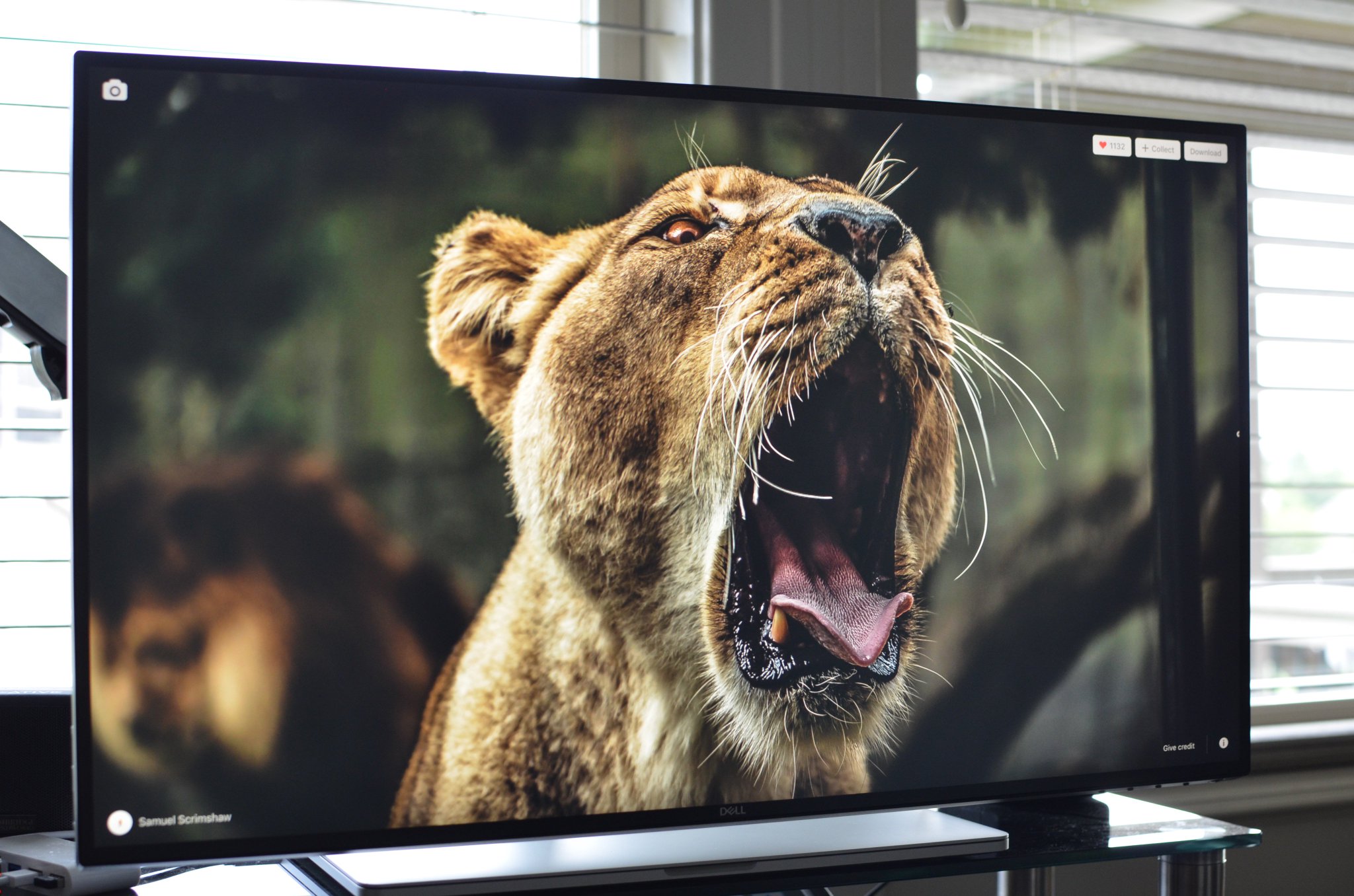 When traveling, I use Apple's dongle to display on projectors via HDMI.
I haven't missed MagSafe for two reasons:
I typically only plug in when at a desk where MagSafe is largely irrelevant.
USB-C dongles pass power through, so there's now one less thing to connect. 👍
With two USB-C connections, I'm docked.
Sufficient battery life — Battery life hasn't been a problem. It seems similar to my old 13" as long as I avoid running the screen at high brightness. I typically get around 5 hours, though I often work outside or with the screen brightness cranked up. If you keep the screen brightness down, the battery life is seriously impressive: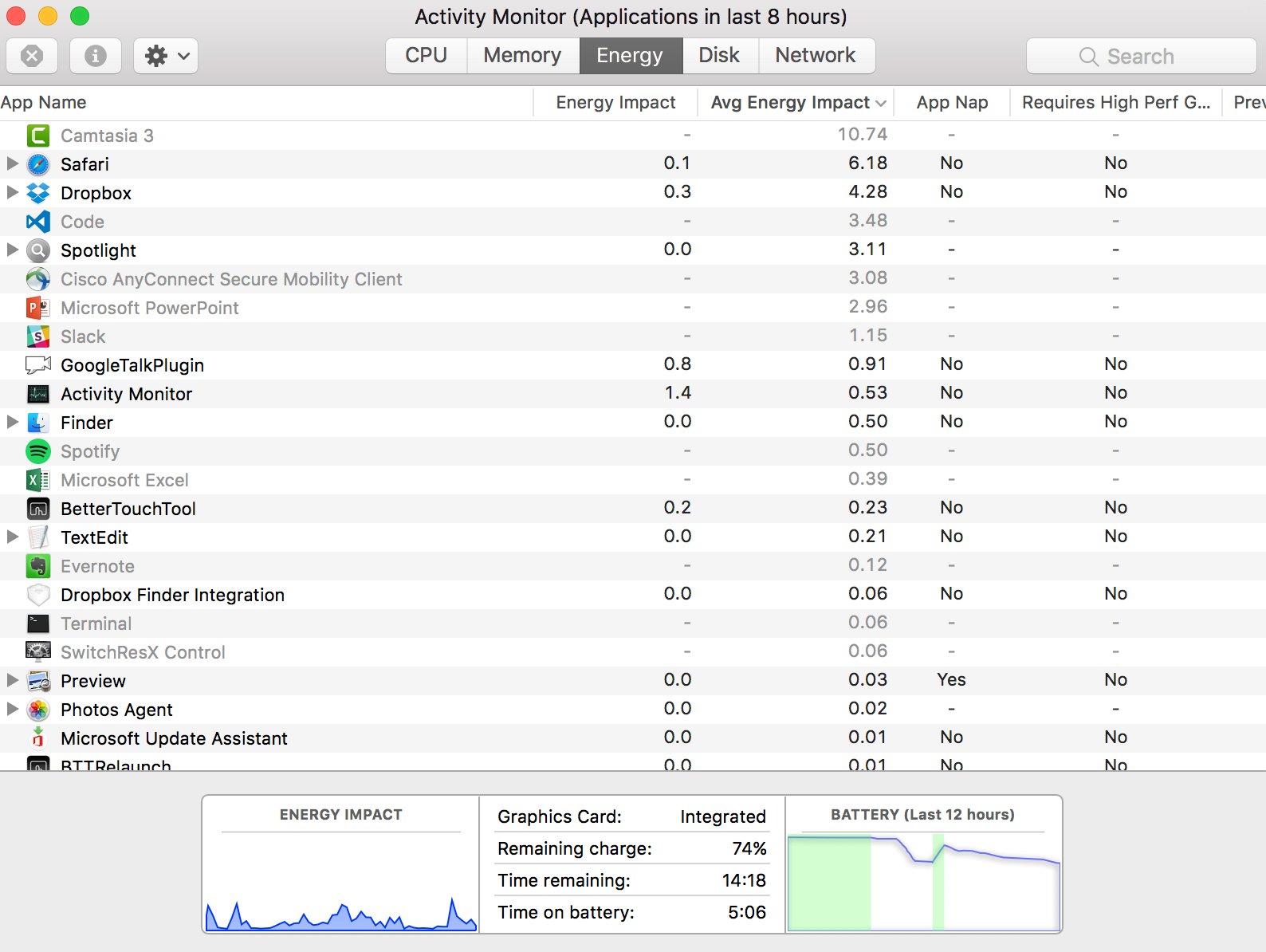 TouchID is (finally) awesome — This was initially unreliable, but an OS update made it rock solid and fast as the iPhone. Super handy.
Larger Trackpad FTW — I've grown to love the new giant trackpad. I initially had issues with palm rejection, but an OS update fixed that. I tried using a 2015 MacBook Pro recently and the trackpad felt too small. I found myself hitting the edges. I was initially skeptical, but the giant trackpad is a win. And it's natural that it's the same size as my external Magic Trackpad 2.
Great packaging — After a year of heavy travel, I have no regrets moving from a 13" to the new 15". The 15" is easily portable. I recently tried a 2015 15" and the difference in thickness and weight was instantly noticable. The new 15" is the first 15" that's thin and light enough for me to enjoy traveling with it.
Cool and quiet — The fan virtually never comes on. The machine is consistently cool to the touch.
Great speakers — The speakers continue to impress, though I typically wear Airpods for music and web-based meetings.
Fast — Notably faster than my old 13". Likely attributable to the faster SSD.
The Bad
Polarizing keyboard — Some rave about the new keyboard, but I've never warmed to it. It's a step backward to me. The key action on the old keyboard is more comfortable and reliable. The travel is so shallow that I have to deliberately hit the keys gently or my fingertips hurt. The spacebar became unresponsive on 3–4 occasions. In each case, I fixed it by sliding my fingernail around the key. I assume debris was impeding key travel.
At one point there was something under the spacebar that impeded the key, but slapping the key and tilting the machine around fixed it.
Thankfully, I rarely use laptop keyboards. I prefer to keep the screen at eye-level via The Roost for better ergonomics.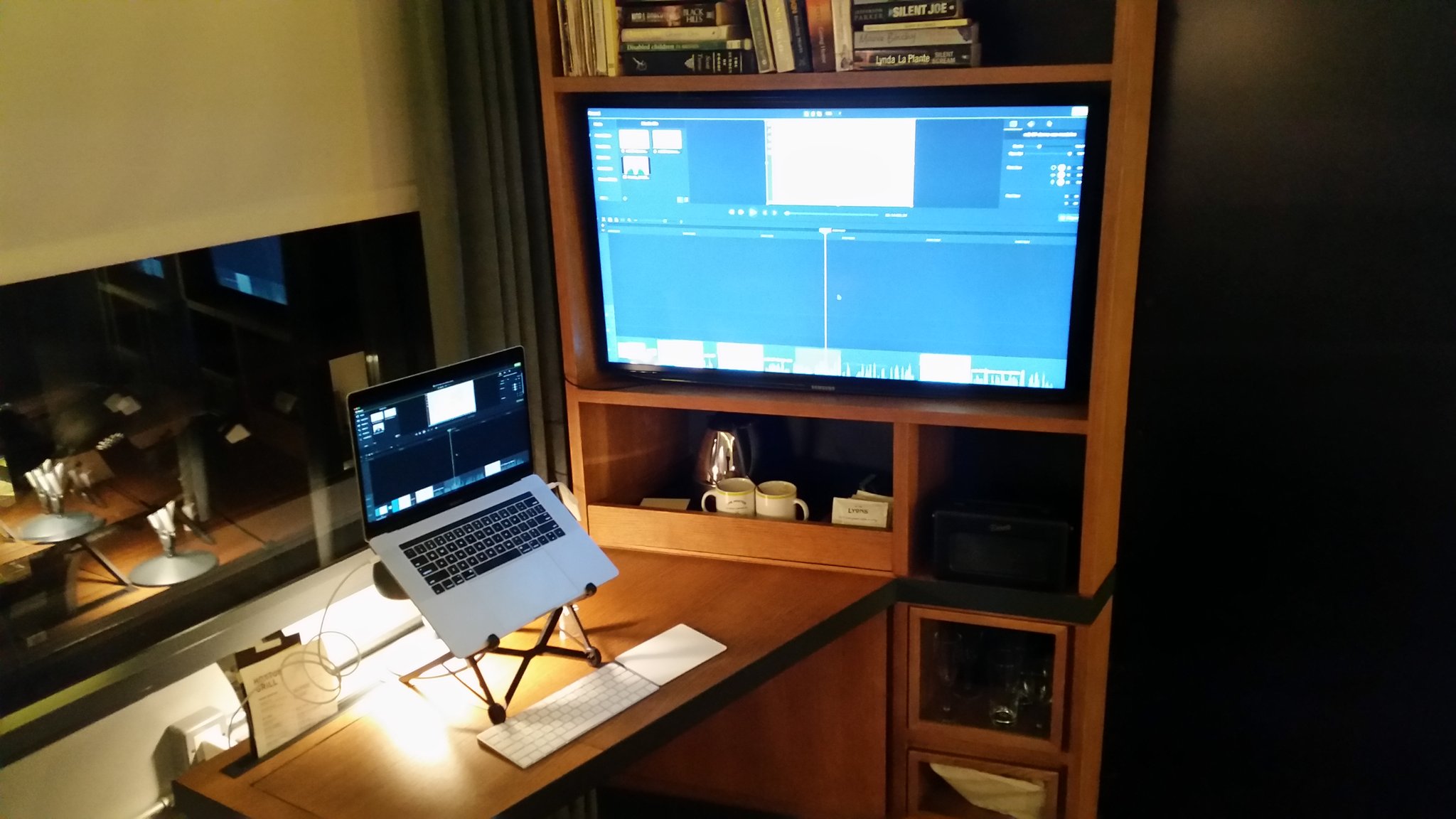 When traveling, I typically use the Apple Magic Keyboard 2, which has keys that feel like the old 2015 Macbook Pro. 👍 When home, I use the Microsoft Sculpt. I use a Magic Trackpad 2 with both keyboards so I always have the same gestures available as when using the laptop directly.
Touchbar = meh — It's customizable, which is cool, but I typically use the machine with an external keyboard, so I rarely use the TouchBar. I would happily buy a machine with plain F keys and save the money and battery life.
Stability — The machine is rock solid when running alone. But a small portion of the time, the machine will reboot upon connection to a USB-C dock while closed. I've learned to dock with the clamshell open and it works fine. Occasionally, the separate USB-C to monitor connection fails to display. In those cases, I plug into a different USB-C port and it works. Thankfully, both are rare, so I can live with it.
Build quality issue — My machine was sporadically making popping noises near the hinge. Many have reported the problem. I reported it to Apple and the experience was very smooth. They shipped me a box so I could ship the machine in, and I had the machine back in about a week with the issue resolved under warranty. They even paid for next day air to return my device. This is the first quality issue I've had with an Apple product. To their credit, it was handled well.
Summary
The keyboard and docking stability are the key annoyances for me. I have workarounds for both, so given all the other wins, I've decided:
I'm keeping it.