MAKE & SHINE eBook by Anne-Laure Le Cunff (@anthilemoon) from London, UK
Discount
Here's one just for the Maker Launches community: please use MAKERLAUNCHES on the extended version of MAKE & SHINE for a sweet, sweet discount! 😻
What's your motivation for creating your product?
First as a mentor at Google Campus, then as a community manager for Solve for X, and finally as a startup founder and community lead for Indie Hackers in London, I've had the opportunity to meet and work with many indie makers and solo entrepreneurs. Time and time again, I hear them ask the same question: how can I get sustained traffic to my products beyond launch day?
Of course, there's no magic bullet. But one of the most powerful decision a maker can take is to stop hiding behind their products. To get out there, build their personal brand, connect with their audience, and put themselves in a position where they own the communication channels with their users.
This is why I wrote MAKE & SHINE: to apply proven marketing tactics to the very specific indie maker paradigm.
What are your product features?
It's about 80 pages long, plus some worksheets and a bonus chapter in the extended edition. It's available on Amazon Kindle, but also as a PDF, or EPUB and MOBI files. I worked on this project as part of the October Women Make Challenge, so I wrote, designed, published, and launched the ebook in one month.
When did you launch?
It was my very first time launching an ebook, so I first did a soft launch on Twitter and via my newsletter to check everything worked properly, then I launched on Product Hunt a couple of days later.
Where did you launch?
Beside Product Hunt and the landing page I created, I launched on several communities where I'm an active member, on Twitter, on Medium, and via my newsletter.
How did your launch go?
The launch went really well!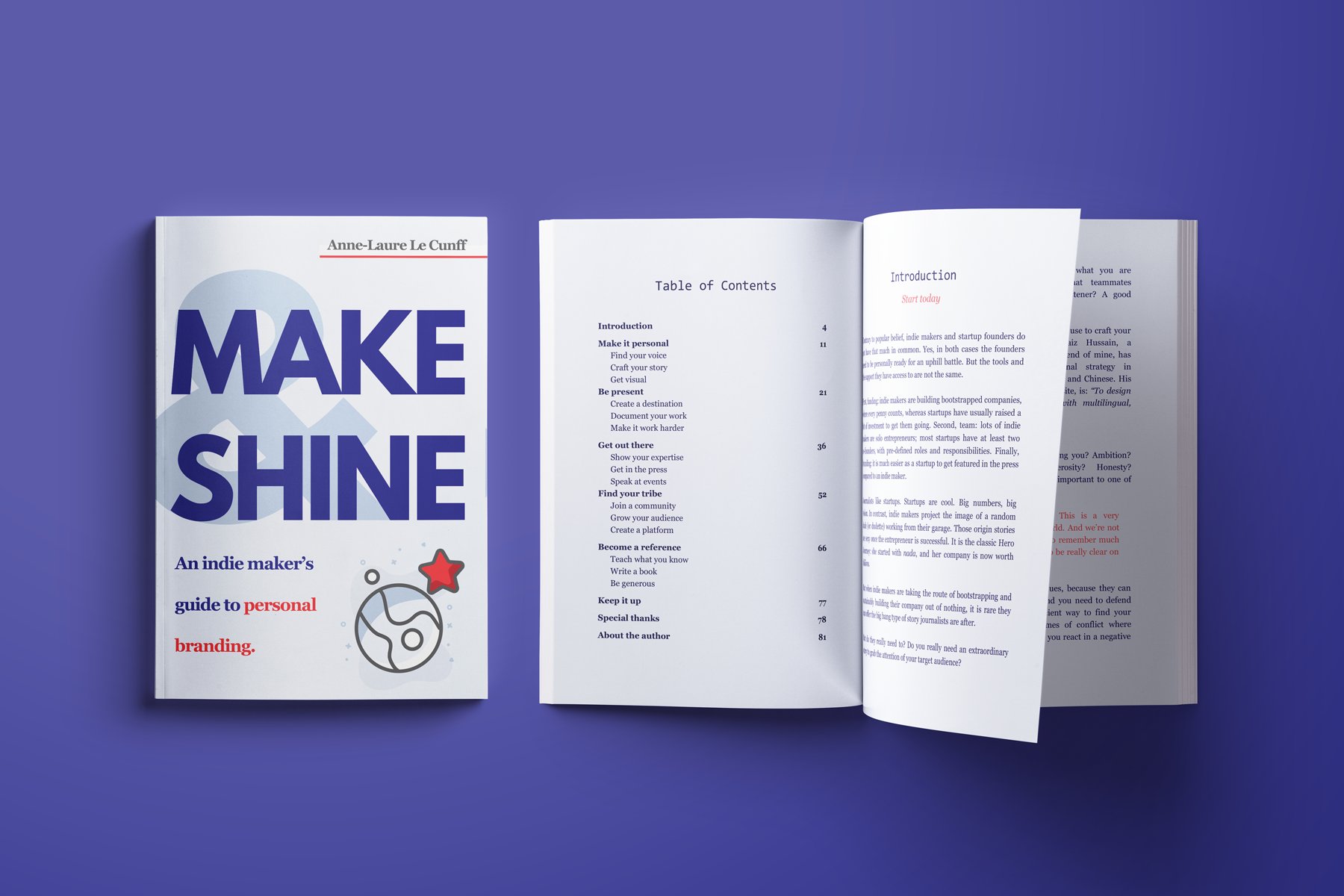 Any specific launch tips? Or things you would do differently?
I wrote a super detailed article with detailed tips, metrics and screenshots here — for example, I sold almost 80% of the copies via Gumroad. Amazon was not as popular as what I expected!
Something that helped a lot was to offer a discount. In that spirit, here's one just for the Maker Launches community: please use MAKERLAUNCHES on the extended version of MAKE & SHINE for a sweet, sweet discount! 😻
Get more stats and stories behind the product launches from makers all over the world at MakerLaunches.